ZAPDOC allows QA professionals to create test documentation … with just one click!
Reality
Test Documentation development is the essential phase of any Quality Assurance process. For many Enterprises having test documentation is imperative in order to comply with various regulations. Enterprises are spending approximately 30% of overall time creating new written test cases and maintaining existing ones when application requirements, or test objectives change.
Problem
Development and maintenance of test documentation is very time consuming and expensive, an initiative that involves greater headcount in the organization. This is becoming a problem for test automation processes where personnel that create test documentation and where the test automation teams are members of different groups don't have clear and direct reporting. Pretty often there are times that test documentation developed with manual testing in mind has to be updated in order to correlate with test automation objectives, and to represent test automation coverage. This correlation discrepancy increases when test automation scripts are being updated due to architectural changes, but test documentation remains unchanged since there is not enough time or it has been lost in the change management communication.
Another problem is ability of QA engineers to support Agile development in DevOps where they usually have fewer resources (one-man-show). QA in DevOps do not have enough time to develop proper test documentation, automate test cases and execute them. Not to mention that Agile development presumes rapid change in the application functionality that has to be reflected in the test coverage. Considering that the test automation is the higher priority, in order to save time, engineers often skip test documentation development altogether.
Solution
ZAPTEST is releasing ZAPDOC, fist in the industry converter that creates test documentation from automated test scripts with one click. ZAPDOC takes automated test case scripts and with a single click of a button converts them into RTF or HTML test documentation. Automated test scripts recorded with ZAPTEST that contain business transactions and even conditional statements now easily translates with ZAPTEST script source code into plain language document and can save it as an RTF or HTML file.
ZAPDOC is available for ZAPTEST Enterprise and ZAPFREE (Community Edition).
DEMO: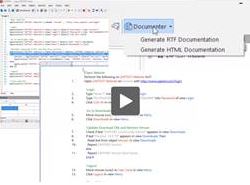 Conclusion
ZAPDOC allows QA professionals to create test documentation converting ZAPTEST scripts with just one click!

Incorporating ZAPDOC into QA process enterprises will eliminate the need to allocate lengthy time to write documentation manually and will save many man-hours.

ZAPDOC allows for easy correlation of test automation source code based script with English based test cases and avoids discrepancy.

ZAPDOC is the ultimate tool for QAs at DevOps. One QA engineer can create automated test scripts and to convert it into test documentation.
Ask
Thank you for your time reading this article! Please download ZAPFREE and start using ZAPDOC today!
Created by: Alex Chernyak [ZAP]