Reality
Mission of Quality Assurance in the development process is to assure quality of software based on the application requirements given by the Business

Quality Assurance is performed by executing test procedures (Test Cases) based on the application under test (AUT) requirements throughout the given software

Test Cases designed by Quality Assurance teams (QA) have to mimic the end-user (human) actions through business processes of the given AUT

Quality Assurance has to represent both, the end-user and the Business
Quality Assurance has to control quality of software applications developed by Application Developers (Devs)!
QAs have to test applications prior to the application

s

release

Applications have to be tested on multiple platforms and environments (Operating systems, combinations of browsers, native mobile apps, hybrid apps etc.) where the end-users will be accessing those applications

Average allocated QA time in the software development process is short, 10%-30% of the SDLC

Manual testing is a lengthy initiative, especially considering multiplying test executions per environment

IT Executives (Execs) would like for QAs to expedite testing

Test Automation allows to speed up test execution
QA testing should be automated!
Test automation is the lengthy process (sort of mini software development process)

Current test automation technologies (tools) allowscript development based on the existing application GUI (AUT has to exist at the time of test automation)

Many QAs are required to support Agile/DevOps with short development cycles (1-2 weeks)

QAs don't have enough time to develop automated testing and to execute it just-in-time (JIT)

Execs are losing patience for QAs
QA testing should be performed Just-in-Time!
QAs would like to start test automation earlier (before the AUT is created)

Many of them are trying to use tools in an alternative way, they are teaming up with Devs to get AUT GUI object parameters (property values) in advance, so they can build test scripts (scripts) before the AUT is created

QAs are orienting testing towards Devs objects (not AUT Business requirements)

Devs control the QAs
Execs are outsourcing testing leadership to Devs!
Devs are leading QAs to test dev requirements (not Business requirements)

QA Testing is losing focus

Quality of software is jeopardized…
QAs are pleasing Devs!
ZAPTEST is helping QAs to represent Business
QAs are starting test automation before AUT has been developed using mockups (either formal or hand-drawn)

Testing starts at the early phase of the SDLC (Design phase)

QAs auto-generate manual test cases with one click

Test Scripts are executed in parallel on multiple environments

Execs are pleased with the just-in-time testing
QA testing is performed JIT!
Test Cases are dev object independent and are focused on the AUT business requirements

Test automation scripts are mimicking manual testing and represent end-user action throughout the AUT

Test validation is based on the end-user experience (not the state of the GUI object)

Testing is accurate

Test results are based on the Business requirements (not dev unit testing objectives)

Execs are trusting QAs
QAs are leading Quality Assurance process!
Testing process is able to be performed independent from Devs
QAs represent Business!
Demo
Please watch this short video to learn how to use ZAPTEST in order to achieve just-in-time testing and to represent Business!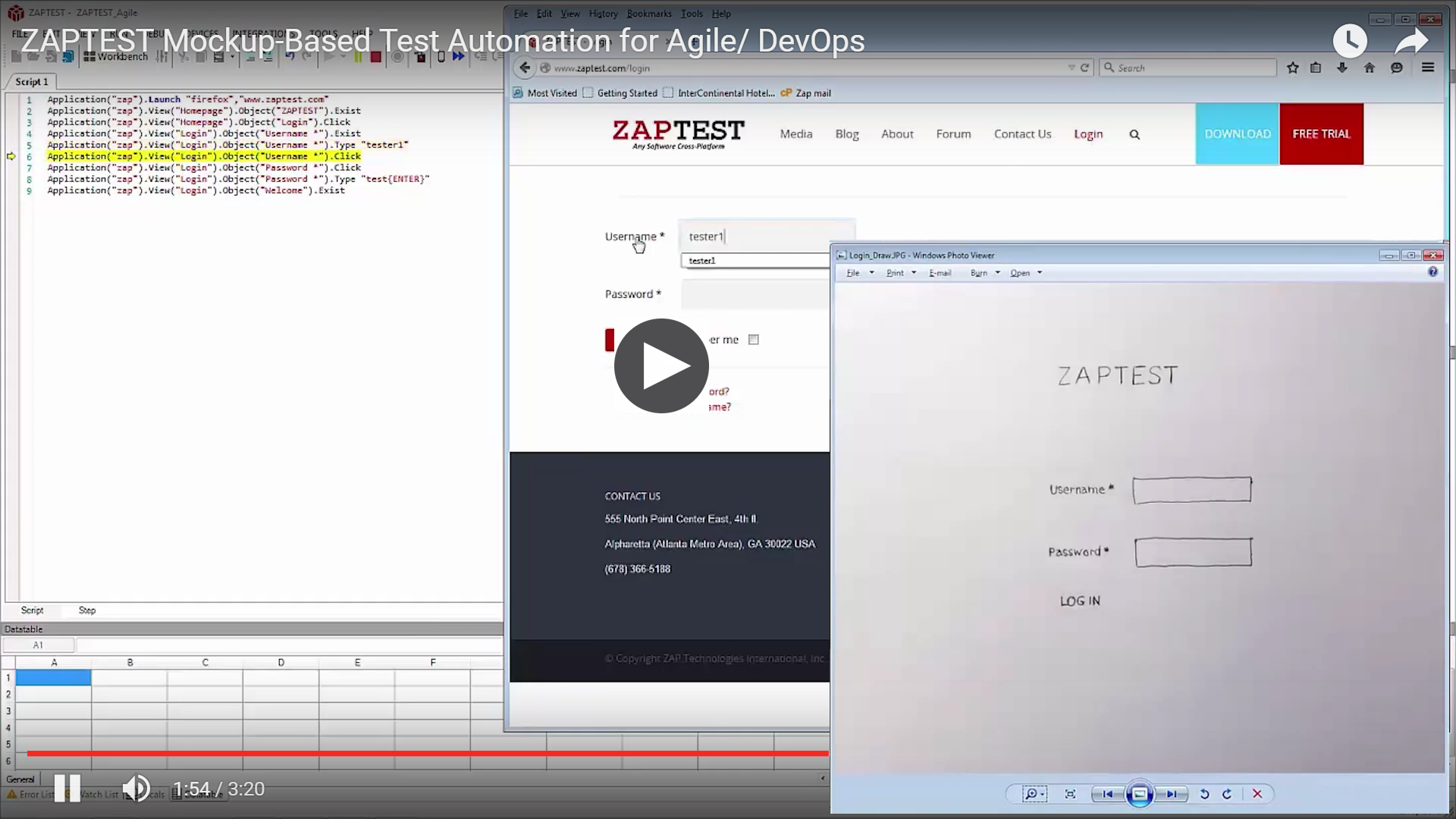 Conclusion
ZAPTEST is the ultimate test automation technology for modern Quality Assurance

With ZAPTEST QAs are able to automate any software application and execute that cross-platform with singular run on multiple environments

They can generate manual test cases and test documentation with one click

ZAPTEST offers QAs 100% QA time and time advantage in testing readiness

And most importantly, with ZAPTEST QAs can do their true job independently assuring quality of software, and represent end-user requirements and the Business!
Ask
Thank you for your time reading this article! Please request a

ZAPTEST Free Trial

and get started today!
Created by: Alex Chernyak [ZAP]